Using this
Word Search Gadget
 for the infamous, unsolved Zodiac
340 Cipher
, I was able to find numerous names and words connected to the Zodiac killings, clearly written repeatedly across the cipher with one letter in each adjoining column or row. They include the names of all the known victims:
Bates
BettyLou
David
Michael
Darlene
Bryan
Cecilia
Diablo
Radian
SFPD
Is the Zodiac's name included in there somewhere?... I think so.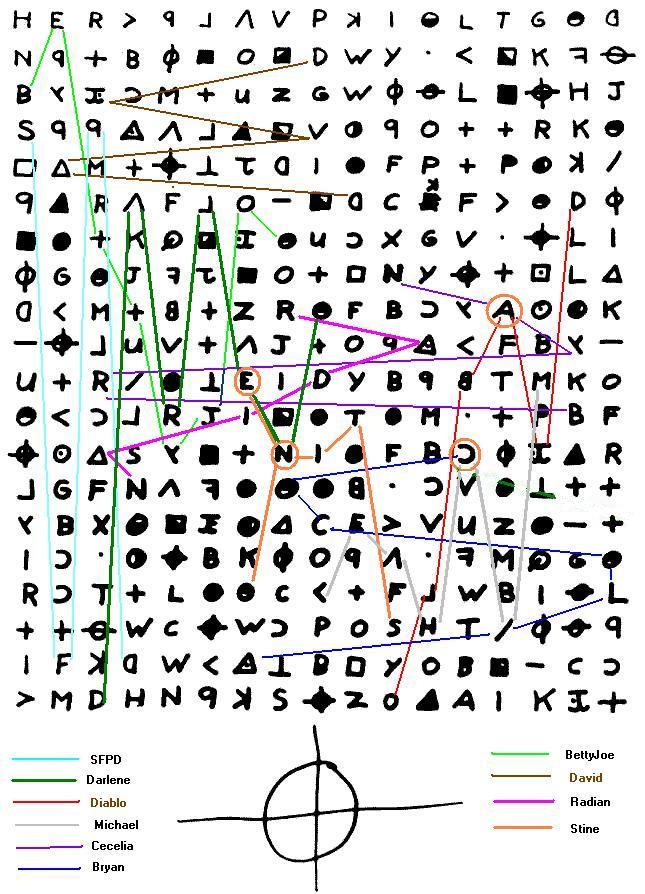 Last edited by Maybea on Sat 28 Feb 2015 - 15:39; edited 1 time in total
Ten names and words are found scrambled in the "code" and there are only four points of overlap in the letters (circled). Two of those are the N and E in Darlene and Stine, which you might expect if someone is inserting the two names.
This image of the cipher shows words from the Zodiac Halloween Card. They are written multiple times but here I show the four words with sixteen letters and with five intersections. GUN, KNIFE, ROPE, FIRE. I don't know if that means it could have been written first or written after the names of the victims and the other words.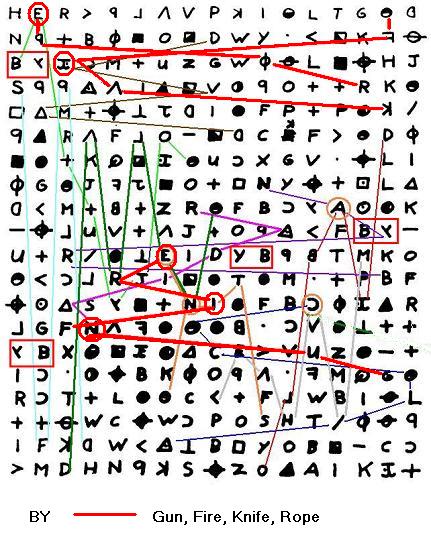 I tested the solution and it looks good so far.When I tried to search the top 5 most popular boys names 6 letters or longer, I found only one Jayden.
I couldn't find

Jackson
Elijah (except with I replacing L which doesn't work for me)
Benjamin
Alexander

But 7 Zodiac victims names are all there (8 if you include Bates).
I found one particular suspect's name clearly written out, first last and middle names in the same six columns.
It's the same method used for finding "Earl Van Best Junior" that some find questionable, including the author of the zodiackillerscyphers page, but it's doesn't mean the method is incorrect. How could all these words and names show up in a unsolvable and presumably nonsense code?

zodiackillerciphers
.com/
word-search-gadget-earlvanbest/

---
Permissions in this forum:
You
cannot
reply to topics in this forum