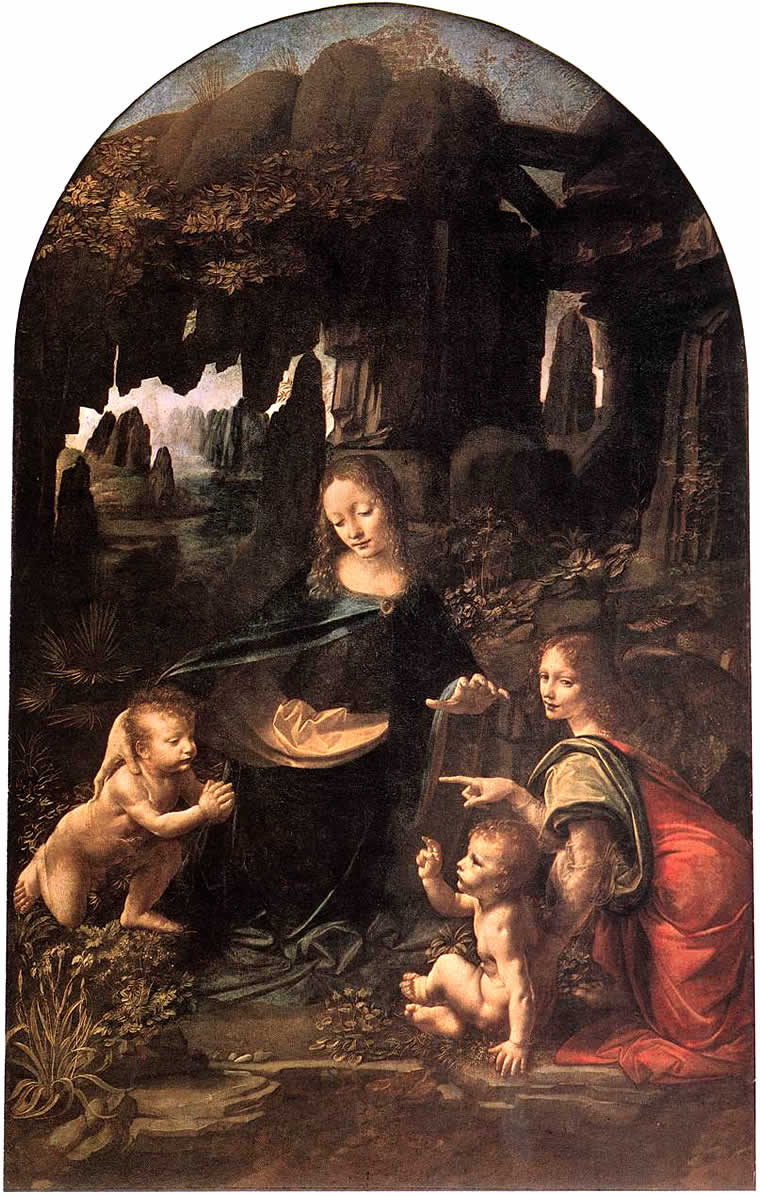 In the Da Vinci painting entitled "Madonna of the Rocks," (shown above) it is written that the woman on the right is Uriel, a female angel who was demoted by the Catholic Church and Pope Zachary in 745 A.D. The reason being that the church felt that too much emphasis was put on the worship of angels and not enough on the male popes. This theme crisscrossed its way throughout the bible; that females were considered "defilers", "whores", "prostitutes," "seducers," "temptresses," and in the Book of Genesis it states not to worship the Queen of Heaven. No reason is given why no worship should be given to this Queen of Heaven, other than the male-dominated church said so!
What right did Pope Zachary have to demote heavenly angels anyway? Does he have any say what happens in the heavenly cosmos? Pretty bold and sexist move on his part!
So, what does all this have to do with the Ripper case? Quite a bit actually - Uriel's feast days are September 29 and November 8.
As we all know in Ripperology, on September 29, Catherine Eddowes and Elizabeth Stride were murdered, and on November 8, Mary Jane Kelly was murdered. Also, Catherine Eddowes was murdered in Mitre Square - how interesting! since the Pope wears a mitre on special occasions. These murders were directly linked with the Rennes-le-Chateau and bloodline conspiracy. You would have to be blind or unintelligent not to see it. Plus, Berenger Sauniere discovered these parchments in the late 19th century (around 1888.)
One other thing to consider - just what was Marie Jeanette Kelly doing in France anyhow? This is where Rennes-le-Chateau is!

***************************************
Karen Trenouth
Author of: "Epiphany of the Whitechapel Murders"
Author of: "Jack the Ripper: The Satanic Team"
Here are some cropped views of Uriel, who is also called the following:
* "God is My Light"
* "Regent of the Sun"
* "Archangel of Purity"
* "Fire of God"
* "Lucifer" (yes; the scribes and Pharisees lied about Uriel by saying that she fell from grace - the actual reason she fell from grace is because she saved both John the Baptist and Jmmanuel from being murdered by a tyrannical demon who considered himself God.) "Lucifer" means light or fire of God). She is the actual lightbringer or lightbearer; because she is the regent of the sun and is known to carry a torch or fiery sword. She is also the angel who holds the key to the pit/abyss (tartarus/hades), and is the angel who is situated with a fiery sword and guards the gate of Eden.
Just to remind people, again: "Lucifer is not Satan; nor is Lucifer an actual angel name since all angels' names end in EL, meaning "of God." For example: Uriel, Gabriel, Jmmanuel, Michael, Raphael, Phanuel, Raguel, Rasiel, Daniel, Ezekiel, and Samael. This Samael is the actual demonic angel (SATAN) who fell from grace because he considered himself GOD and started all the religious cults on Earth to glorify him. Using a Latin to English translator, you will discover that Lucifer is an adjective meaning shining, bright, clear. Adjectives are never used as names; adjectives are words to describe nouns. Shining, bright and clear describes the angel Uriel because she is the fire of god or light of god and regent of the sun. There is a god, but just as Jmmanuel claimed in his own Talmud it is never capitalized; it is simply god. (L'il g.)

***************************************
Karen Trenouth
Author of: "Epiphany of the Whitechapel Murders"
Author of: "Jack the Ripper: The Satanic Team"

Similar topics
---
Permissions in this forum:
You
cannot
reply to topics in this forum