I found this quote in an issue of The War Cry that sounds like someone we know. 
"The other day I came on a woman, her hair down and all bruised, in a court near us. Her husband had come home drunk, and he and somewoman had set on her just because she wouldn't come and spend her money drinking with them. She's a woman tries to keep herself a bit decent. The policeman had just been around and stopped them. I helped her fasten up her hair."
The War Cry,
13 October, 1888; 'Within the Circle of the Whitechapel Murders'
Courtesy of The Salvation Army International Heritage Centre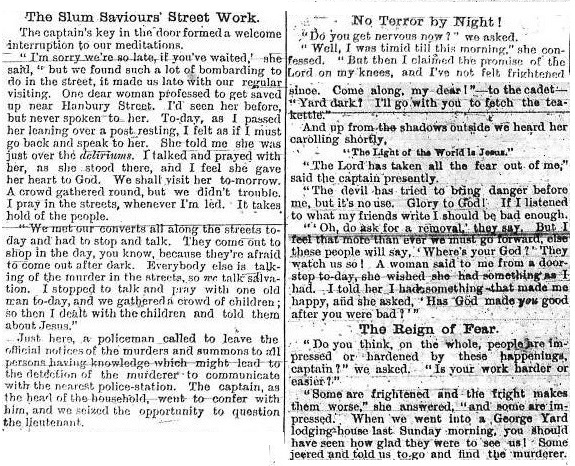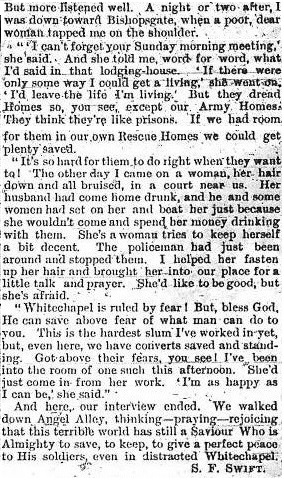 The Captain being interviewed is called Captain W__ in the beginning of the article (I will post). We can assume this is the Captain Walker mentioned December 1, 1888 in The War Cry by Staff-Captain James J. Cooke, the one where he states Mary Kelly was at the Salvation Army service "quite recently".

So we can assume Captain W is Walker who knew Mary Kelly "recently" as of Dec. 1 and the incident with the woman in the court happened around October 13. The woman was found in a court near Angel Alley which is not far from Millers Court.
I thought this could be the "broken windowpanes" incident.

But Barnett said this happened on October 30th when he left her.
Part 1 of The War Cry article from Oct. 13, 1888 with the Captain named as "Captain W--"

Regardless of when the broken window pane incident happened, we know that Kelly and Barnett were quarrelling in October over her letting women stay in their room.

The fact that this incident days prior to October 13 happened in a court to a woman who tried to be respectable, presumably a prostitute, who had a drunken 'husband', had long hair she kept up, and that there was another woman involved and the incident was reported by someone who knew Mary and probably became friends with her in October because we know Mary significantly attended her Sunday service in October, where they sang together just prior to her murder, means that this definitely, by weight of coincidental and circumstantial evidence, has to be Mary Jane Kelly.

Obviously, Captain Walker got her side of the story so it might not be exactly the true version of events. But I don't doubt that Barnett could be a mean drunk like her.

Do you think Joe was always kind and innocuous as the popular consensus seems to be?

---
Permissions in this forum:
You
cannot
reply to topics in this forum