[img]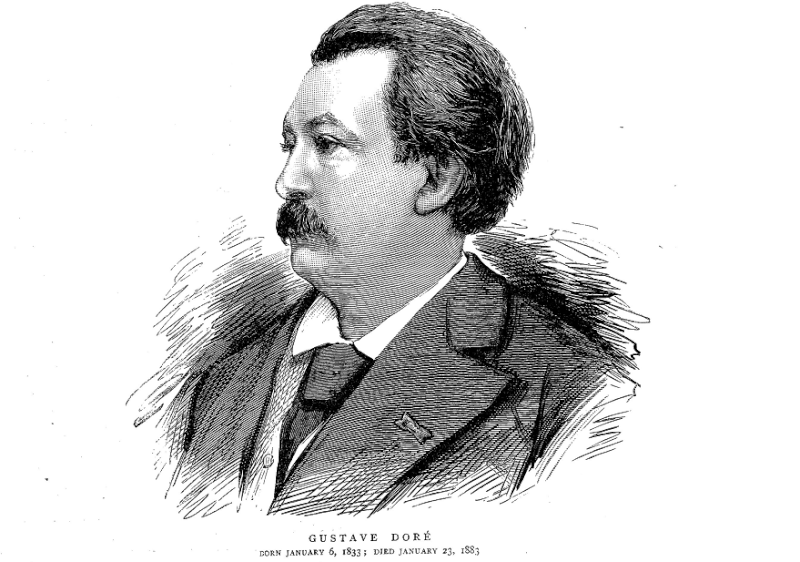 [/img]
GUSTAVE DORE.
PAUL GUSTAVE DORE, one of the most original and weirdly imaginative artists that the world has ever known, died last week at the early age of fifty-one. His name and works are probably more widely known than those of any modern artist, for while his paintings have been chiefly confined to France and England, his illustrations to the Bible and numerous standard French and English authors are to be found in every civilised country. Like all natural geniuses Gustave Dore took to the brush from his earliest childhood, publishing, when only eleven years old, some cleverly-drawn lithographs of the French campaign in Africa. At sixteen we find him in Paris working with M. Bertall on the Journal pour Rire, and exhibiting pen-and-ink sketches in the Salon; and from that time he speedily gained a noteworthy position in Art circles. His contributions to the Salon yearly attracted more attention, until in 1857 he gained an honourable mention with his "Battle of Inkerman." Meanwhile, his book-illustrations made him highly popular with the multitude, and the singular originality of his woodcuts to "Don Quixote," "The Wandering Jew," to Rabelais' works, and above all to Balzac's "Contes Drolatiques," evinced a fund of grim unearthly humour altogether unprecedented. Not, however, that he confined himself to the grotesque, as his designs to Tennyson's "Idylls of the King" and the Bible will manifest, but his great forte undoubtedly lay in depicting the "uncanny" and ghostly side of human life, a propensity which is said to have caused Mr. Ruskin to describe his works as "grimy exhalations from the waters of the Styx." There was manifestly something in common between that remarkable eccentricity of genius the Belgian painter, Wiertz, and Gustave Dore, and the former's "Un Grand de la Terre" might well have passed for a cut from the "Contes Drolatiques." There was something, too, of Blake and of Kaulbach in his style - indeed he has been called the most German of French painters. Of his paintings we need say little, as most of our readers will probably have visited the collection in his Gallery in New Bond Street, and gazed wonderingly at the huge canvasses of "Christ Leaving the Praetorium," the "Dream of Pilate's Wife," and others of his masterpieces. Latterly he had turned his attention to sculpture, and visitors to the 1878 Exhibition will doubtless remember his gigantic vase representing the "Triumph of Bacchus," while his statuary contributions to recent Salons have been greatly admired. M. Dore had undoubtedly a taste for the gigantesque. This is seen in his pictures, and thus it is not surprising that his studio in Paris was probably the largest in the world. He lived in an old-fashioned mansion in the Rue St. Dominique, and his studio was in the Rue Bayard. There he was wont to work in the midst of his friends, utterly unconscious of their presence, running from one picture to another, and putting touches here or a figure there, as the fancy took him. "Don't wake him, he's dreaming," his intimates were wont to say, and frequently a visitor would go away after waiting two hours without exchanging a word with the artist. He was a singularly moderate liver, and, as a couple of glasses of wine told on him, he rarely drank anything stronger than eau rougie, while his eating was as frugal. In personal character he has been likened to Charles Dickens, both from his love of humble life and out-of-the-way places, and from his buoyant spirits, though, unlike the novelist, he was subject to occasional deep fits of gloom. He affords a curious example of an absolutely successful career from first to last, and of an artist who worked not from necessity, as his means were always good, his father being a well-to-do engineer, but from sheer love of his art. At the time of his death he was building - on that Titanic scale in which he delighted to do everything - a huge house in the Parc Monceaux which for luxury and comfort was to rival the famed Monte Cristo of Dumas the elder. He died on Tuesday week suddenly from the effects of a chill caught on coming away from a party on the previous Friday. His funeral took place on the following Thursday, and was attended by two thousand persons, M. Alexander Dumas pronouncing the funeral oration. - Our portrait is from a photograph by Fairless and Beeforth, Dore Gallery, 35, New Bond Street, W.
Source: The Penny Illustrated Paper

***************************************
Karen Trenouth
Author of: "Epiphany of the Whitechapel Murders"
Author of: "Jack the Ripper: The Satanic Team"

---
Permissions in this forum:
You
cannot
reply to topics in this forum