I need to explain that this might be the Mary O'Brien that I believe survived - the Mary O'Brien who was mentioned by Inspector Abberline and not the "Mary Jane Kelly" who was murdered by the Ripper.

FOREIGN EPITOME.

The Supreme Court of Massachusetts has decided in favour of the defendants in the case of Mary O'Brien v. the Cunard Steamship Company. Mary O'Brien sued the Cunard line because she had to submit to compulsory vaccination by the ship's doctor during the voyage from Europe.

Source: Lloyd's Weekly London Newspaper, May 4, 1890, Page 2

***************************************
Karen Trenouth
Author of: "Epiphany of the Whitechapel Murders"
Author of: "Jack the Ripper: The Satanic Team"
ABSCONDING OF TWO GIRLS.

Two girls have absconded from the Roman Catholic Reformatory, Sheffield. Their names are Mary L. O'Brien and Margaret Noonan, both aged 15. Several girls have previously run away from the same place and respecting two of whom a discussion took place in the House of Commons last session.

Source: The Echo, Monday February 7, 1870, Page 3

***************************************
Karen Trenouth
Author of: "Epiphany of the Whitechapel Murders"
Author of: "Jack the Ripper: The Satanic Team"
A Police Constable as a Peacemaker.

At the Richmond petty sessions on Wednesday Ellen O'Brien, of 6, Gloucester-cottages, Mortlake, was summoned for using abusive and insulting words in a thoroughfare towards Mary O'Brien. - Arising out of the same disturbance, Mary O'Brien, of 5, Gloucester-cottages, Mortlake, was summoned for assaulting Timothy O'Brien. - Police-constable Ellis: The parties want to settle it. - The Chairman: Well, let them go outside. - Police-constable Ellis (to the parties): Come on; let's see what we can do. - The parties retired, and Ellis subsequently returned into court, and informed the Bench that it was "all settled."

Source: The Putney and Wandsworth Borough News, Saturday, February 27, 1886, Page 6

***************************************
Karen Trenouth
Author of: "Epiphany of the Whitechapel Murders"
Author of: "Jack the Ripper: The Satanic Team"

***************************************
Karen Trenouth
Author of: "Epiphany of the Whitechapel Murders"
Author of: "Jack the Ripper: The Satanic Team"
A SCREW-MAKER FROM BIRMINGHAM.

At Highgate, Mary O'Brien, forty-one, a homeless flower-seller, was charged with being drunk and disorderly, and using obscene language.
Police-constable Price, 670 Y, said he found prisoner the previous evening at Archway-road, Highgate, and during the fifteen minutes he had to wait for the ambulance her language was terrible. "She was calling everyone who passed everything," said the constable.
Prisoner interrupted the constable every minute during his evidence, and said, "Oi'm not guilty, sorr. Oi'm too far gone in loife fer ter use bad language. There was no dirthy language from me, but you ought to have been there an' heard what he said to me, sorr. His conversation was 'orrid. I was in a wake state, an' 'e pulled me about by th' hair o' my head in a cruel manner, an' Oi'm consumptive an' my left lung gone, an' my right one damaged, an' Oi'm obliged ter have a drop o' whisky. I used ter work at a screw facthory at Bermingham, but now Oi'm a flower-girl."
Mr. Cory-Wright: Have you a licence?
Prisoner: Ye don't want one fer flowers.
Police-sergeant Weatherstone: That is correct, sir.
Mr. Cory-Wright: Have you a husband?
Prisoner: Yiss, sorr.
Mr. Cory-Wright: Where is he?
Prisoner: Dead, sorr. (Laughter.)
Mr. Cory-Wright: Then you haven't got a husband.
Prisoner: I shan't take no more dhrink, sorr, not a drop.
Mr. Cory-Wright took her promise and discharged her.
Prisoner: Not whisky, sorr; I may take a dhrop o' port wine. (Laughter.) God bless ye, sorr, much obliged to ye.

Source: Weekly Dispatch, January 14, 1900, Page 18

***************************************
Karen Trenouth
Author of: "Epiphany of the Whitechapel Murders"
Author of: "Jack the Ripper: The Satanic Team"
MISS CICELY RICHARDS.
Although Miss Cicely Richards began her career on the stage "very low down indeed," and merely "walked on" as a slight slip of a child at the Vaudeville, she had the unusual experience, very soon after, of getting an engagement that lasted nearly 1,400 nights consecutively, and without a break; and of making a phenomenal success, clad in a tattered print frock, with a big smut on her face, and a housemaid's stair-broom in her hand. Without interest or influence, with no one belonging to her on the Stage, and her parents rather opposed to the idea, on account of the uncertainty of any prospects, she begged to be allowed to try her chance, and consent was at last reluctantly given. She went to the theatre, and by good luck caught Mr. Tom Thorne in his office, and diffidently stated her wishes. The kindly manager listened attentively, bade her come as understudy and "walk on," and promised that if she showed any talent he would give her the first opening - a promise he faithfully kept.
[img]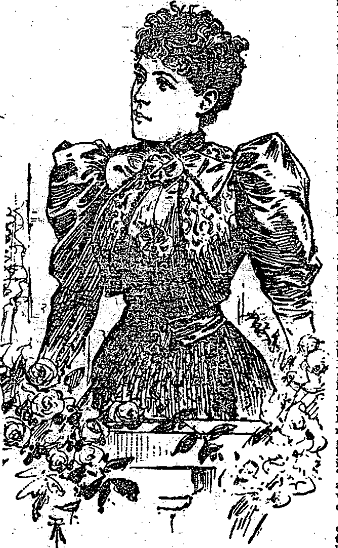 [/img]
"The School for Scandal" was then having a long run; and the young girl, looking out for opportunities, wisely made herself at home in all the business of the piece, and quietly understudied everyone. Soon the chance came. The actress who was playing Lady Teazle was delayed by some accident on her way to the theatre, and the one who acted Maria was put in her place. The prompter flew behind, and, hurrying to Miss Richards, asked her if she knew Maria's words to say them then and there, which she did.
"You will do," remarked, pithily.
"I ran up hastily and changed my dress," she says, with a laugh, "and went on in an agony of fear. While waiting for the cue I almost regretted that I had said I knew the lines, and at first I did not recognise my own voice!" The stage-fright, however, was soon overcome. Shortly after came the production of Mr. Byron's "Our Boys," when Cicely Richards was allotted the part of the ever-memorable Belinda, the lodging-house slavey. By her careful and intelligent study of the part, and her clever interpretation of it, she made a bound into public favour. Never did honest hard work vindicate itself more fully! It was only to be expected that during such a tremendous run, a few little unrehearsed effects should occasionally take place. The monotony of it was a severe trial to one and all of the players. "It got upon my nerves," says Miss Richards, "to such an extent, that it made me quite ill. Over and over again, when I had my hand on the door to go on, the words would temporarily escape me, thought once on they luckily always came back." There was an evening when Belinda's faithful chronicler was present, that a most terrible "stage-wait" occurred - the longest on record. Just in the middle of a speech Mr. James suddenly experienced a total loss of memory. He appealed to Mr. Farren and Miss Richards to prompt him, but neither could at the moment - in fact no one could do anything. To give an idea of the dreadful length of the pause, which, however, must have seemed far longer to the poor players than to those in front, it must be stated that the employees, after setting the scene, had to go out and were not allowed in again until after the act for fear of noise. Someone near saw there was a wait, and he had to go first to the hall-keeper to explain why he wanted to get out, then to find the prompter, who returned to his desk, got out his book and asekd, "Where are they?" No one could tell. The audience were in fits of laughter. Mr. James tried two or three times, but the people shouted, "Oh, no; we've had that!" Suddenly the words came back and the act continued, and at its conclusion the popular actor was called again and again, and loudly encouraged and comforted. One great benefit resulted from Cicely Richards' performance of Belinda. After a short time it was the means of her being introduced to Mr. Horace Wigan, who was present. He was most kind and encouraging, bade the girl go on and persevere, and from that time forward did her more good than anyone in the profession by the advice he gave and the interest he took in her. "And I must not forget," she adds, prettily, "to record how much gratitude I owe to Mr. Thorne and to the late Mr. James in the beginning of my stage life." Her next part was in "Our Girls," which fell somewhat flat after its brilliant predecessor, and then came a long provincial tour under the management of Messrs. Bruce and Tom Robertson, as Meg in "Retiring," a tour she thoroughly enjoyed, while every spare moment was spent in studying fresh parts. On her return to town she was engaged at the Princess's to play Biddy Roonan in Jefferson's melodrama, "The Shadows of a Great City," which had a long run. Vera, the Russian flower-girl in "Siberia," was a favourite role that she describes as "a bright little part of a good girl." The next engagement was at the Princess's to play Mrs. Rolleston in "The Mystery of a Hansom Cab," and while acting every night in that piece she took part in five matinees a week besides, among which were Mary O'Brien in "Little Lord Fauntleroy," and Miss Potts in "Dorothy Grey." There was considerable variety in these performances - Mrs. Rolleston being a little comedy part, Miss Potts and American girl, and Mary O'Brien Irish; and but for the fact that she is able to imitate these last two accents capitally, Miss Richards might have got a little mixed. As it was, however, she laughingly declares that she was always in fear of getting her Irish tongue Americanised and vice versa. After fulfilling a special engagement at the Vaudeville in a comedietta, the hard-working young actress passed on to Toole's theatre to play in Mr. Fred Horner's amusing piece, "The Bungalow," which ran over nine months. Then back to the Princess's for a summer season in "Fate and Fortune," followed by an invitation to the Strand to take up Miss Fanny Brough's part of Mrs. Stewart Cross in "The Late Lamented." Some seven or eight years ago "Our Boys" was revived at the same theatre, and ran nearly a year, and Cicely Richards resumed her original role of Belinda; but she and Mr. James were the only two members of the old and brilliant cast that had consisted, besides, of Mr. Farren, Mr. Thorne, and Mr. Warner; Sophie Larkin, Kate Bishop, Amy Roselle, &c., and now that these are all scattered, and Mr. James is no more, Miss Richards devoutly hopes the play may never again be revived.
Last Christmas, for the first time, she played in Mr. Oscar Barrett's pantomime at the Grand theatre, Birmingham, the fairy god-mother, which she pronounces to have been delightful. Her fine mezzo-soprano voice and knowledge of music assisted her materially, and her reception and notices were most gratifying. Her latest appearance is as Markham in "The Passport," a part she sustains with her usual cleverness.
Miss Richards can recollect the turning point in her early childhood. She had been an idle little girl at school at Willingborough, and one day her mother sorrowfully remarked that it was waste of money and time to send her at all. Stung by the mild reproach, she shut herself up, did her own little studies, and from that time on was one of the hardest workers. "I love my profession dearly," she says, very gently. "Everyone must love it. I have had my ups and downs, my little hardships and disappointments like others, but it is a happy life, and I am content, and have much for which to be thankful."
(Copyright) HELEN C. BLACK.
Source: Lloyd's Weekly Newspaper, August 25, 1895, Page 8

***************************************
Karen Trenouth
Author of: "Epiphany of the Whitechapel Murders"
Author of: "Jack the Ripper: The Satanic Team"
THE DARTFORD MURDER.

Hugh Odd, a costermonger, was charged at Dartford petty sessions on Saturday with the wilful murder of his paramour, Mary Jane O'Brien, aged 36, on the 26th of April. - Mrs. Alice Basset said that she lived opposite Odd. On the 23rd of April she saw Odd in his house. She heard the prisoner ask deceased to get up and some faint moans followed. Witness then heard heavy blows and screaming, and Odd shouted he would knock her brains out. She had seen Odd ill-treat the woman on previous occasions. - Dr. Clarke repeated the evidence, given at the inquest, which pointed to the death resulting from the effects of violence. - Prisoner was remanded, bail being refused.

Source: Lloyd's Weekly London Newspaper, May 19, 1889, Page 4

***************************************
Karen Trenouth
Author of: "Epiphany of the Whitechapel Murders"
Author of: "Jack the Ripper: The Satanic Team"
At Dartford on Tuesday night an inquest was held on the body of a young woman, Mary Jane O'Brien, who expired under mysterious circumstances at the house of a man named Hugh Odd on Friday of last week. The post-mortem examination revealed that O'Brien's body was covered with bruises, which could not have been self-inflicted, and that death was due to syncope. The police statement being to the effect that there was some difficulty in obtaining evidence, the inquest was adjourned for a fortnight.

Source: Hornsey and Middlesex Messenger, Friday May 3, 1889

***************************************
Karen Trenouth
Author of: "Epiphany of the Whitechapel Murders"
Author of: "Jack the Ripper: The Satanic Team"
THE CHARGE OF KILLING A PARAMOUR.

Hugh Odd, costermonger, of South-street, Dartford, was charged, on remand, at the Dartford Petty sessions, on Saturday, with the murder of Mary Jane Brien, his paramour, on April 26.
A number of female witnesses deposed to Odd's constant ill-treatment of the woman. - Mrs. Ellen Windibank said that the deceased told her on April 24 that Odd have given her a death-blow. Witness wanted to get a doctor for the deceased, but the deceased would not hear of it, as she was afraid of the authorities punishing Odd. The two had quarrels very frequently, but the deceased never liked anybody to interfere.
Dr. Clarke said he made a post-mortem examination. The right eye was blackened, and there were a number of bruises on the chest and hip, apparently caused by blows. The body was well nourished, but there was very little blood throughout the body. He did not think the bleeding at the nose was due to a blow. The weak action of the heart would bring about nose bleeding. Syncope was the cause of death, and it would be accelerated by violence and exposure.
The prisoner was fully committed for trial, his solicitor reserving the defence.

Source: Lloyd's Weekly London Newspaper, May 26, 1889, Page 3

***************************************
Karen Trenouth
Author of: "Epiphany of the Whitechapel Murders"
Author of: "Jack the Ripper: The Satanic Team"
MANSLAUGHTER OF A PARAMOUR.

Mr. Wood held an adjourned inquest on Tuesday, at Dartford, relative to the death of Mary Jane O'Brien, aged 32. The deceased lived with a labourer, named Hugh Odd, and it was stated that he habitually assaulted her in the most brutal manner. Odd was present at the inquest in custody of the police. At the former hearing Dr. Clark, who made the post-mortem examination of the body, stated that the right eye was blackened, and there were numerous bruises on the front of the chest, and also bruises on the left hip. He was of opinion that all the blows had been given at the same time. The left great toe was extensively discoloured. He considered that death resulted from the blows he had referred to, which must have been inflicted by somebody else.
- A witness named Alice Bassett said about three weeks before the death of the deceased she heard quarrelling and screams proceeding from Odd's house. She recognised the voices as those of Odd and O'Brien, and she heard several very heavy blows, and also heard Odd say that he would kill her stone dead if he hung the next minute for her.
- Honora Essex deposed that about three weeks before her death she heard Odd beating the deceased, and other similar evidence confirmatory of the severe ill-treatment the deceased met with at the hands of the prisoner was given.
- The coroner summed up at some length, and the jury returned a verdict of "Manslaughter" against the accused man.

Source: Lloyd's Weekly Newspaper, Sunday May 19, 1889, Page 1

***************************************
Karen Trenouth
Author of: "Epiphany of the Whitechapel Murders"
Author of: "Jack the Ripper: The Satanic Team"

---
Permissions in this forum:
You
cannot
reply to topics in this forum