A GAY DECEIVER - AND THIEF - IN LOW LIFE.

William Morris, twenty-three, described as a hawker, was charged before Mr. Newton, at Worship-street, on Wednesday, with having assaulted and robbed Elizabeth Clark. The prosecutrix, an old widow, residing in Pelham-street, Mile-end New Town, told a story of having been "taken in" by the prisoner, who had introduced himself to her on Whit Monday, and she thinking him such a nice young man, and liking him very much, thought he would make a good husband for her daughter; accordingly she introduced them to one another, and left them together for a little while. She then took the prisoner to her home, and made her daughter do the honours of the tea-table. Subsequently he made an appointment to meet her daughter that night, which witness was very glad to see, and in order to make the time pass pleasantly to the prisoner, she went out for a walk with him until the time he was to meet her daughter. She went into a public-house with him and had some ale there, and he then invited her to go and see his sister and his home; and she, thinking that she would like to see if he was a homely man, consented. She went to Dorset-street, Spitalfields, and there had some more drink; and shortly after, the prisoner, being alone in the room with her, suddenly attacked her, knocked her down, tore a coral necklace off her neck, a shawl off her back, and also a scarf, with which he ran out. She afterwards gave information to the police, and last night saw the prisoner in custody at the station. The stolen articles had been pledged at a pawnbroker's in Shoreditch, and were now produced. The prosecutrix said she did not care so much about the loss of her things as of the young man for her daughter; but she had since found out that the prisoner was already married, and he had passed himself off to her as a single man and made love to her daughter. The wretch! (this with great indignation and vehemence.) Mr. Newton told her that she was a very silly woman, at her time of life to be taken in by a young man making love to her daughter. The prisoner pleaded guilty in preference to going for trial, and a previous conviction for assault having been proved against him, Mr. Newton said he had not the least doubt that the prisoner had planned the matter and got this foolish old woman into his room for the purpose of robbing her, and that was to be effected by violence. He sentenced him to four months' imprisonment with hard labour.

Source: Illustrated Times, June 5, 1869, Page 367

***************************************
Karen Trenouth
Author of: "Epiphany of the Whitechapel Murders"
Author of: "Jack the Ripper: The Satanic Team"
FRIGHTFUL ASSAULT WITH A CLEAVER.

Benjamin Johnson, a short, thick-set man, a greengrocer, in Dorset-street, Spitalfields, was charged before Mr. D'Eyncourt with cutting and wounding Mark Cottrell.
On Saturday evening, the 30th of April last, some words arose between the men in Spitalfields Market relative to the conduct of their wives, who are sisters-in-law. Suddenly Johnson snatched a butcher's cleaver from a block at the door, and, going straight up to Cottrell, aimed a blow, which missed him, but, following up the attack, inflicted a wound on the crown of the head with the cleaver, which rendered him insensible, and occasioned a great flow of blood. He was taken to the London Hospital, and now for the first time attended to prosecute.
Mr. John Bradon, one of the house surgeons, deposed to the nature of the injury. A piece of scalp as large as a crown piece had been cut off to the bone, and but for the weapon falling in a slanting direction it would probably have proved fatal. Considerable force must have been used. The complainant being much taller than his assailant doubtless weakened the effect; yet after all, the escape was providential. Cottrell was now an out-patient of the hospital.
Mr. D'Eyncourt observed that he had received several letters upon the subject of this assault, all averring that the defendant bore an excellent character, and had, previous to committing this assault, received great provocation.
Goddard, 222 H, who has charge of the case, said that Johnson gave himself up on it at the station on the following morning, and
James Miller identified the cleaver (one certainly calculated to effect any mischief) as his father's. He saw Johnson take it from the block and return into the crowd with it. He had previously observed Cottrell strike Johnson's wife in the mouth, causing it to bleed freely.
Prisoner was fully committed for trial at the sessions, but admitted to bail, himself in 100 pounds, and one surety in a like sum.

Source: Illustrated Times, June 4, 1859, Page 367

***************************************
Karen Trenouth
Author of: "Epiphany of the Whitechapel Murders"
Author of: "Jack the Ripper: The Satanic Team"
John Clark, described as of Wilmott's lodging-house, Dorset Street, Spitalfields, and Moses Solomon, a general dealer, 24 Tenter Street, Spitalfields, have been charged at the Guildhall, before Alderman Figgins, M.P., with being in possession of a pair of blankets supposed to have been stolen.

John Davies, detective constable, said that about half-past eleven o'clock that morning he was in company with detective Mitchell in Harrow Alley, Petticoat Lane, where he saw Solomon give something to Clark and receive a parcel in exchange. They then went into a public-house together. The witness and Mitchell questioned Clark as to how he obtained the blankets. He replied that a strange man and woman on London Bridge induced him to buy them. He could not recollect what he gave for them. Solomon confessed he had not asked Clark how he became possessed of them. Detective Mitchell said that he found on Solomon a purse containing a small piece of coal. The witness went on to say that receivers of stolen goods carried pieces of coal about with them. When they saw a thief apparently rather shy as to whom he would sell his plunder to they would walk up to him, take out a purse, and show him a piece. This was to show that the thief might rely upon their being as faithful as the Bedouin Arabs were to those with whom they took salt. Alderman Figgins said this was one of the strangest things he had ever heard. He remanded the prisoners, but accepted bail for Solomon.

Source: The Week's News, September 6, 1873, Page 1138

***************************************
Karen Trenouth
Author of: "Epiphany of the Whitechapel Murders"
Author of: "Jack the Ripper: The Satanic Team"
[img]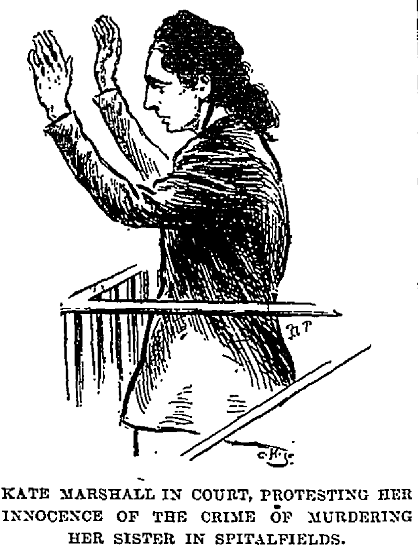 [/img]
The Spitalfields Murder. - The Police Court proceedings arising from the early Sunday morning tragedy in Miller's Court, Dorset Street, Spitalfields, when Mrs. Roberts was stabbed to death, opened at Worship Street last Monday. Deceased and her sister, Kate Marshall (who both lived in one room with a man named Roberts, with whom the murdered woman cohabited), quarrelled just after midnight, and the former was struck in the breast with a shoemaker's knife. When placed in the dock, Marshall appeared very weak and miserable, and her shabby black dress and piece of headgear only helped to accentuate her sad and dejected appearance. When prisoner was told of her sister's death, she replied, "That woman is my sister"; and, after being cautioned, she said, "My God, if it had been any other person but my sister I would have done it." When she was placed in the dock by Inspector White and charged with murder, she replied, "I hear, but I am innocent of it." On this evidence prisoner was remanded. She had no questions to ask, but as she was leaving the dock she cried out, "Oh, Liz, my sister! I loved my sister! I am innocent!" The murder of Mary Kelly, who was one of the "Ripper" victims, took place on Friday, Nov. 9, 1888, in the back lower room of the house where the present tragedy occurred.
Source: The Penny Illustrated Paper and Illustrated Times

***************************************
Karen Trenouth
Author of: "Epiphany of the Whitechapel Murders"
Author of: "Jack the Ripper: The Satanic Team"

Similar topics
---
Permissions in this forum:
You
cannot
reply to topics in this forum