[img]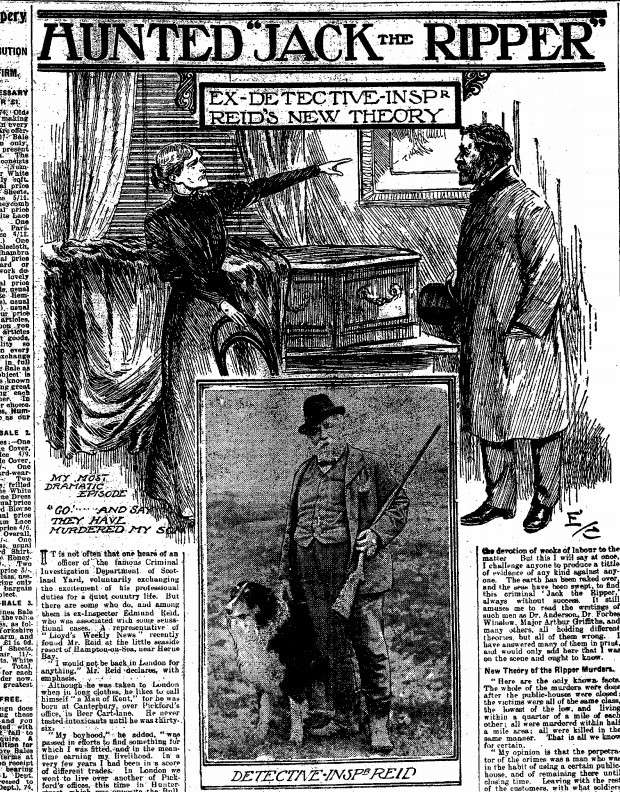 [/img]
It is not often that one hears of an officer of the famous Criminal Investigation Department of Scotland Yard, voluntarily exchanging the excitement of his professional duties for a quiet country life. But there are some who do, and among them is ex-Inspector Edmund Reid, who was associated with some sensational cases. A representative of "Lloyd's Weekly News" recently found Mr. Reid at the little seaside resort of Hampton-on-Sea, near Herne Bay.
"I would not be back in London for anything," Mr. Reid declares, with emphasis.
Although he was taken to London when in long clothes, he likes to call himself " a Man of Kent," for he was born at Canterbury, over Pickford's office, in Beer Cart-lane. He never tested intoxicants until he was thirty-six.
"My boyhood," he added," was passed in efforts to find something for which I was fitted, and in the meantime earning my livelihood. In a very few years I had been in a score of different trades. In London we went to live over another of Pickford's offices, this time in Hunter-street, which was opposite the Bull, in Old Kent-road - at that time called "The Village."
"The first time I went to work was at taking the "Times" out, and leaving it with people who hired it to read at a penny an hour. That was a very usual thing at the time, and I remember one man who made a living by lending papers on the day of issue and selling them outright at half-price the day following.
Origin of a Great Business.
"While I was at work for a grocer named Hughes, in the Walworth-road, one of my duties was to carry bags containing a quarter of a hundredweight of sugar (lump-dust, it was called) for an old gentleman named White, who kept a grocer's shop in Thurloe-street. He used to make "stone" ginger-beer in the washhouse, and many a glass he has given me for carrying the sugar.
"That old gentleman was the first Mr. White, the founder of the great firm that is now a limited liability company, with vans all over London.
"I first joined the police on Nov. 5, 1872, at Carter-street, Walworth, and became "478 P." At that time I was the shortest man in the force; in fact, the standard was lowered to 5ft. 6 1/2in. for a fortnight because they wanted men badly, and I could not even reach that. But coming fresh from the boats I was healthy and strong, and the chief inspector, who was in charge, said it did not matter.
"I had eighteen months' uniform duty, including the regulation of the traffic at the Elephant and Castle. I was appointed detective constable in the old detective branch that was succeeded by the C.I.D. in July, 1878. There I stayed for three or four years, always making it a point to dress smartly.
"The formation of the C.I.D. was not so long ago as you might think, and I am quite confident about the date. I have here a copy of the original list, as written out, and posted up in the Director's room at Great Scotland Yard. You will see that, in addition to the Director himself, Sir Howard Vincent, there were 234 officers in all.
"The names bring back memories of terrible crimes and tragedies, as well as of stories that illustrate the unavoidable inequalities of treatment of criminals. Let me illustrate what I mean by two cases.
A Murderer Everyone Loved.
"The first was that of a man, who was a fellow loved by everyone who knew him. He kept an eating house in Camberwell. One morning he had a few words with his wife. But it all finished, and he went across the road to buy meat for the day's puddings. When he had paid the butcher he borrowed a knife to cut it up. He was engaged in that operation, and in the full rush of the morning's business, when his wife came down, fully dressed, and said she was going out. The husband said she should not, and pushed her. As she fell it was found that the knife had penetrated her side.
"The husband was arrested, his wife having pleaded that he should not be, and declaring that it was all her fault, and an accident. Then she died, and the husband was placed on trial for murder. Although the woman died begging her husband to forgive her, and saying it was all her fault, when the case came before Baron Bramwell, at the Old Bailey, and after he had heard the evidence, the judge said: "Gentlemen of the jury, the law is - life for life. You do your duty, and I'll do mine."
"And so the poor fellow was found guilty and sentenced, and was executed at Horsemonger-lane Gaol within five weeks.
"Now take another case. A carman who was driving a van in Thurloe-street, Camberwell, detected a man stealing something from a shop. He chased the thief into a yard, and the thief, taking a knife, stabbed the carman in the stomach. Then he left his victim, and told a woman he met round the corner that there was a man lying ill.
Self-Accused Murderer Gets Off.
"The man was taken to Guy's Hospital, but died. Search was made for the murderer, but nothing could be obtained in the shape of evidence. A month later Detective-Sergeant Janes, of Camberwell, arrested a man for stealing a tin of condensed milk. The fellow was committed for trial. Several convictions were proved against him, and he was given five years. Two months afterwards the man wrote the full history of the murder on a slate, and gave it to the governor of the prison. He sent it to the Home Office, and to Scotland Yard and the P Division. He was brought up and charged, and was committed for trial. When brought before the judge at the Old Bailey he was asked if he understood what he was doing. He replied, "Yes, I plead guilty to killing this man. When I go to sleep I can see him before me all night long, and I wish to get out of my misery."
"The judge advised him to plead "Not guilty," but he again said, "No, I plead guilty, and I am willing to die." But later he pleaded "Not guilty," was very ably defended, and the jury, after retiring, returned a verdict of "Not guilty."
"The man turned round in the dock and said, "You are a lot of fools." He went back and finished his five years.
"I am often asked what was the most dramatic event in my official career, and I have no hesitation in saying that it was a case to which my inspector sent me, in which a young fellow had just come out of prison.
"It appeared that he had been released on the understanding that he was to be sent abroad, and I was to see that that part of the arrangement was carried out.
A Terrible Bereavement.
"As I afterwards found, he was the only son of a widowed mother, who moved in very good circles before the tragedy came that must have taken all brightness out of what was left to her of life. Her son was a very decent young fellow. He had been invited to join a foreigner in a City partnership, and had gone into matter apparently in good faith.
"The foreigner had obtained goods under false pretences, and had committed other offences. Then he absconded, and the young fellow was left to bear the brunt of the charges, and got five years.
"As I have indicated, he was released, and the inspector went to see him. My inspector of those days was one of the kindest men I ever knew. And he came to me later, and told me it had made his heart ache to see that splendid young fellow in bed, raving in delirium, and his grief-stricken mother standing by him watching for some hope of life. So he said, "You go down and see him; I can't stand seeing him again."
"Well, I went along to Norwood, and sent my card in. A middle-aged person came to the door, stately and proud, in spite of the drawn face that told how she had been suffering. She asked my business, and I told her.
"She said, "Have you not read the papers?"
"I admitted I had not, and she went on, "Do you not know my son is dead?"
"What could I say? I was intensely grieved to hear it, and felt my own intrusion acutely. I told her I was extremely sorry, but words never sounded so feeble to express what I really felt.
"Then, with a mixture of scorn and pride, she said, "I require none of your sorrow. You shall see him."
"I replied that I had no wish to see him, but she declared, "You shall," and led the way to the drawing-room.
"There she had got the fine young fellow laid in his coffin, with the lid still off, and she insisted on my looking at him. Then she almost hissed out, "Now, sir, I hope the law is vindicated. There is the door. Go and report to your superiors what you have seen, and say to them for his mother that they have murdered my son. Leave me." I sincerely hope I shall never have to go through a similar experience.
Good Word for Whitechapel.
"I was the last C.I.D. inspector to be appointed by Sir Howard Vincent, and after about three years at Scotland Yard I was sent to form the detective department of a new division, the "J," which extended from Bethnal Green to Chigwell Hill, in Essex. I remained there for twelve months, and was then sent to take charge of the Whitechapel division, where I found some exciting work in the series of "Ripper murders."
"Whitechapel has an evil reputation, and one that it does not by any means deserve. During the whole time I had charge there I never saw a drunken Jew. I always found them industrious, and good fellows to live among. Even the so-called "Whitechapel murders" were not peculiar to that division, for one was in the City of London, one in Bethnal Green, four in Spitalfields, two in St. George's, and only one in Whitechapel.
"I have been asked to tell the story of the "Ripper" series many times, but to do so would necessitate the devotion of weeks of labour to the matter. But this I will say at once. I challenge anyone to produce a tittle of evidence of any kind against anyone. The earth has been raked over, and the seas have been swept, to find this criminal "Jack the Ripper," always without success. It still amuses me to read the writings of such men as Dr. Anderson, Dr. Forbes Winslow, Major Arthur Griffiths, and many others, all holding different theories, but all of them wrong. I have answered many of them in print, and would only add here that I was on the scene and ought to know.
New Theory of the Ripper Murders.
"Here are the only known facts. The whole of the murders were done after the public-houses were closed; the victims were all of the same class, the lowest of the low, and living within a quarter of a mile of each other; all were murdered within half a mile area; all were killed in the same manner. That is all we know for certain.
"My opinion is that the perpetrator of the crimes was a man who was in the habit of using a certain public-house, and of remaining there until closing time. Leaving with the rest of the customers, with what soldiers call "a touch of delirium triangle," he would leave with one of the women.
"My belief is that he would in some dark corner attack her with the knife and cut her up. Having satisfied his maniacal blood-lust he would go away home, and the next day know nothing about it. One thing is to my mind quite certain, and that is that he lived in the district.
"The police, of course, did everything possible with a view to the arrest of the man. A set of rules was laid down as to the sending for assistance immediately upon any discovery, not only to Scotland Yard, but also to everyone who was likely to be required or of assistance. And there was always a sort of interesting speculation as to who would reach the scene of a new crime first.
"Inspector Abbeline and Inspector Moore, with a whole staff of detective officers from other divisions, and from the Yard, were sent to render every possible assistance, and there were vigilance societies formed, the members of which used to black their faces, and turn their coats inside out, and adopt all sorts of fantastic disguises before they turned out. To one of the officers of this organisation the late Queen Victoria sent a letter of commendation, and the public subscribed very liberally. Officially and otherwise many thousands of pounds were spent in the effort to catch "Jack," but he eluded us all.
Wants a Minister of Police.
"I should like to say here how different the police of today are to those serving when I joined. The average officer is now as near perfection as it is possible to get him. But there is one change I should like to see, and that is the appointment of a Minister of Police for the whole of England. It would save a lot of jealousy between different counties. And another thing I desire is a system under which all verbal and written statements made by a superior officer against a subordinate would be made on oath. I believe that system prevails in Ireland.
"I suppose I had the law-and-order instinct in me, for I was sworn in as special constable, during the Fenian scare of 1867. And as my only son and my grandson were both born in a police station, while my son-in-law, Sergeant Tom Smith, is gaoler at Thames Police Court, there seems to be a fair prospect of the instinct being continued in other generations of Reids.
"Before I left the force, after twenty-three and a half years' service, I had the good fortune to receive commendation or reward, or both, on fifty-three occasions. I loved the work, and should not have left so soon only that I was invalided from the service.
"My chief recreation was ballooning, and during the time I was in the police I made no fewer than twenty three ascents from the Crystal Palace and the Alexandra Palace, and still hold the gold and bronze medals of the Balloon Society of Great Britain."
Source: Lloyd's Weekly News, February 4, 1912, Page 7

***************************************
Karen Trenouth
Author of: "Epiphany of the Whitechapel Murders"
Author of: "Jack the Ripper: The Satanic Team"

Similar topics
---
Permissions in this forum:
You
cannot
reply to topics in this forum